How to Start a Daycare: A Step-by-Step Guide
Congratulations on making the decision to start your own child care or a daycare business! Whatever your reason, whether you're an entrepreneur with a vision or a parent who sees a need or an experienced teacher in the childcare business, opening a daycare or day care center isn't easy. If you want to run a successful daycare, you need expert advice, a clear business plan, financing, hiring expert staff and child care software to help you stay organized and streamline your operations.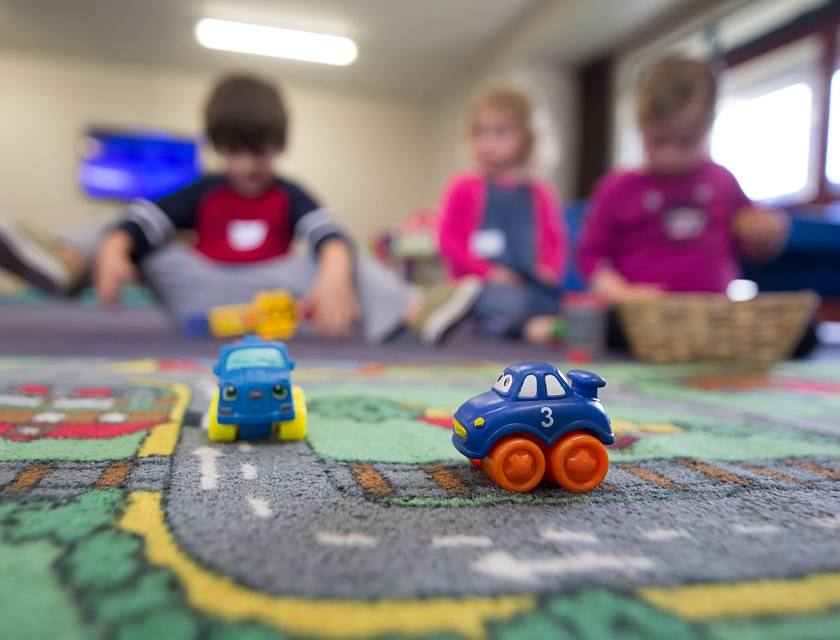 When operating a daycare, the startup costs for daycare and risks are low when compared to other businesses, while the opportunity for monetary and emotional rewards are high. A daycare plan if properly executed can help you breakeven within three years. Your success in opening a child care center will depend on careful management of the startup process from start to finish. This guide will explain exactly how to start your own daycare, from writing a business plan, marketing, ensuring quality services to the parent and choosing a location, to marketing, hiring, and managing your day-to-day operations.
1. Create a business plan
The very first step towards opening your home daycare is thinking like a business, and a proven way to do so is by creating a business plan.
You'll need to do your research, with a focus on understanding the costs involved in successfully launching a profitable daycare business.
Writing a business plan is a helpful exercise that forces you to plan ahead and anticipate many of the challenges that can often lead to failure when they are overlooked, such as:
Is there enough demand for a daycare in your area (e.g. are there more families with young children in your area than existing daycares can accommodate)?
Are there enough working parents or big offices in your area?
Are you able to get a favourable rental term?
How much will it cost to operate your business?
Validate your idea with your friends and
How much will you need to charge per child, and do you have enough space?
How will you promote your business to get children enrolled?
2. Find a location for your daycare
Are you starting an in-home daycare, looking to rent an existing daycare center, or starting a daycare business from scratch with a brand new facility? In any case, you'll need to find a home for your child care business. Check your city's zoning laws and child care licensing guidelines when you're making this decision to be sure your location is compliant.
When making this decision, consider that home-based child-care businesses generally have fewer expenses and lower overhead, have more flexible hours, and are more convenient for you and, likely, the parents whose needs you will be serving. The legal requirements to operate a home-based child-care business are also generally less strict than those for a center-based child-care business.
On the other hand, a center-based business—while probably more expensive to establish and operate—will provide greater space so you can expand your business and earn greater revenue.
3. Competitor Research
You will be able to compare services provided by competitors must be considered and compared to the your own services. For example, what kind of curriculum is being offered? Is it new and innovative? If not, how can this be capitalized on? Other concerns might be special services such as longer hours, pick-up and drop services for kids,special needs children, sick child care, or after school program. Also, what are the rates for these services? The bottom line is provided the parents with the best value!
4. Invest in child care software
One of the best ways to start a successful daycare in 2019 is to take advantage of the amazing childcare technology at your disposal. Streamline your administrative tasks and you'll have more time to focus on providing your families a top-notch daycare experience–which is your whole goal anyway, right?
Illumine makes easy-to-use child care software that will help you manage your daycare and stay in touch with families. Your staff can use illumine for recording and tracking daily events and activities, and parents get real-time updates delivered to their mobile devices throughout the day. Delight parents and bridge the gap between learning that happens in your program and learning at home using our parent-teacher app. Our powerful daycare app also offers secure, digital check-in/check-out, live streaming, and an automated paperless daycare billing system. This is a great way to keep your families looped in on daily activities.
5. Live Streaming / CCTV access
In our last blog, we had highlighted why allowing daycare and childcare parents to give access to school's cctv is a good idea. Parents are full of anxiety, apprehension, and doubts when they leave their children in a school. The best way to relieve them of their anxiety is to give them live access of the classroom.
Schools realized the parental concerns and apprehensions. Over time these reduce too once the child gets comfortable. But the research has shown that parents prefer to put their kids in schools which has live streaming access for them. The modern chains realized that and now even smaller ones have started following it. Some of the schools that were the first movers in this were
6. Obtain necessary licenses.
In the vast majority of cases and countries, you will have to apply for and be granted the proper licensing in order to care for children. The type of licensing you will need will depend on your jurisdiction and country. Your local municipal government office should be able to tell you what licenses you will need to obtain in order to run your child-care business. Your state's licensing office should also be able to provide you with an overview of the licensing requirements applicable to you, which you should read carefully. This process will likely involve some or all of the following.
Attending an orientation session where you will learn about state and local requirements for operating your business and complying with applicable state law.
Filling out a licensing application.
Paying a licensing fee.
Working with the licensing agency as it reviews your business plan, inspects your facility, and completes the licensing process.
Taking classes focused on CPR, first-aid, and the like. Have these instructions pasted on the prominent locations of your daycare facility?
Undergoing a background check (and fingerprinting) for you and any prospective employees.
Undergoing medical testing/immunizations for you and any prospective employees.
Get a license from the fire safety department. You should have a fire evacuation plan as well as fire-extinguishers in place.
Parents always appreciate transparency since they are leaving a piece of their heart with you. If you explain to them your process and that you have met all the safety requirements then they will have a sense of assurance.
8. Market your daycare business and seek applicants
At the very least your child care center will need marketing collateral and an online presence. Make sure you register yourself in the google business directory. You should hire a digital agency to make sure your business is marketed to parents who are searching schools for their kids. You should create a Facebook page. The Facebook page should have your business philosophy and pictures of your facility. List your business in local child care directories and participate in daycare or preschool enrollment fairs in your community. You should definitely have a professional design your website and also install live inquiry software on the website.
Starting a daycare center can be challenging, but running a successful child care business is extremely rewarding. Wishing you the best of luck on the journey to open your own daycare
Illumine is everything you need for your daycare business, in one simple app. Download it today!
The post How to Start a Daycare: A Step-by-Step Guide appeared first on Illumine.