Introduction
How often have you heard from guardians that their kid constantly asks when class is getting over and tumbling down soon after the virtual class gets over? Truly, this is the picture of today's video classes. A child invariably gazing at the screen, wiggling to comprehend the topic, and battling with mute and unmute. Let's acknowledge the fact that giving round-the-clock consideration in the virtual classroom can be a tough nut to crack.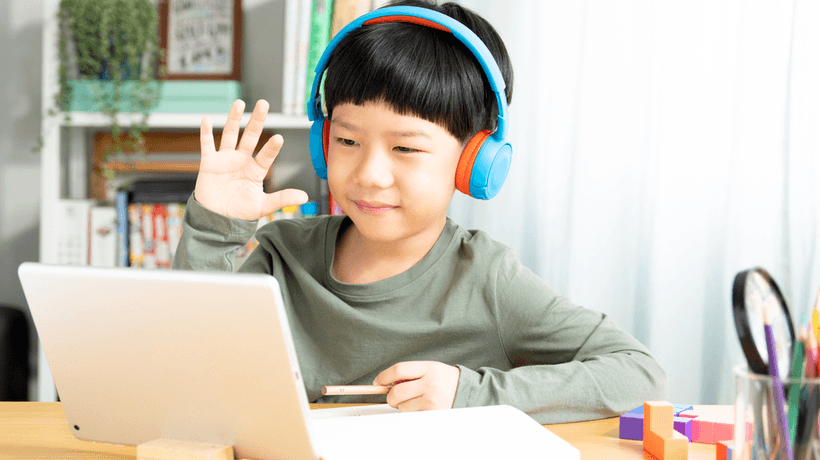 Every kid is different and needs divergent strategies to cope up with virtual classroom teaching. Well, using apt virtual classroom software can help in the long run. In this blog, we will glance at and attempt to comprehend the issues and ways to deal with settling the endless problems related to virtual classroom teaching.
Problems of Remote Learning
There are various issues that a student wrestles with during the virtual class and, cutting the Gordian knot does not always help. Here is the rundown of some problems of remote learning:
Lack of sense of enjoyment- Monotonous lectures, assignments, and asynchronous learning best define today's virtual classroom. They cannot converse freely, and it becomes tedious to pay attention to teaching.
Minimal motivation- There ought to be a direct relationship between motivation and efforts. In most of the remote learning, there is no personal contact; hence, no motivation and no way to track the progress of the child.
Absence of interaction- There is no proper study material available that can be read before the class so that the session can be interactive and fruitful. Eventually, students fail to raise questions and understand the subject matter of the lesson. The biggest problem is multimodality. In physical class, the teacher can make the use of chalk and board to explain the complex concept. But, in the case of the virtual class, it becomes strenuous to perform.
Binge Watching- Continuously staring at the screen without breaks leads to itching and eye-redness. In extreme cases, it can cause thrombosis, blood clots, and heart issues. Only taking breaks can help.
Poor peer to peer relationship- Taking classes in isolation lacks personal touch with friends and teachers. Lacking communication makes learning more boring and leads to distraction.
Ways to Get Your Kids to Pay More Attention to Video Classes
Redefine the meaning of Pay Attention – First, it becomes paramount to make them understand that paying attention does not mean staring at the camera throughout the lecture. It means actively listening to and understanding whatever has been taught. In virtual class, it means sitting attentively and not leaning on anything, and raising a hand calmly in case of any doubt or question.
Create a proper learning space- If the kid feels confident, they can take the risk, raise questions, learn to trust, and build a sense of understanding. It only becomes possible through building a suitable learning space where they not only study but also learn and play. According to experts, learning space refers to any place free from distraction where kids can feel safe and engage.
Let them wriggle- Let them feel anxious, frustrated, and annoyed. Yes, you heard it right. It helps to build confidence, resilience and teaches valuable lessons of life. At first sight, they may get nervous and worried but, eventually, they will come up with their own unique ideas to solve the problem. That is the human tendency.
Bestow some short breaks- Who doesn't prefer to enjoy a reprieve whether it from a long-riotous work or study? Offer them a short break where they can unwind themselves. Permit them to associate with their companions, share their perspectives, and have some occasional time. One such virtual classroom software that can help is Illumine. It devises an interactive virtual classroom platform for kids to interact and share their problems with teachers.
Motivation- As it is said your limitations and loopholes are your mere imagination. Use this philosophy in the virtual classroom. Motivate the kids when they seem to get distracted and show little or no interest. Even the concentration power of young kids ranges from 10-15 minutes. After that, they eventually become vague about new ideas and topics. Be a source of motivation for them!
Declare your Endgame- At the end of the virtual class, appreciate them, make them feel valued, individually name, and thank them for their participation and dedication. In the words of Johannes- to speak gratitude is courteous, to build gratitude is a noble act of kindness as being appreciated can uplift the soul and motivate the heart. Love and admire them to intact their attention in the virtual classroom.
But what is the ultimate solution? Your all-in solution to these problems is virtual classroom software named Illumine. But the question arises how software like Illumine helps? Well, it can help in the following ways:
Online video conferencing- This virtual teaching software allows you to conduct online video conferencing smoothly and with ease. High-quality video and audio will allow kids to grab the idea properly.
Advanced interactive whiteboard- It inculcates one-click content sharing and an advanced whiteboard facility to enhance visual aids. This helps keep the attention of the kids.
Supports live chat- It helps to solve any query or problems and enhances student participation and improves learning retention with virtual classrooms.
Record your sessions- It is a virtual learning environment software that facilitates recording and sharing of teaching sessions for future reference and as a study material.
Conduct quiz- Educate the students through storytelling, rhyme classes, circle time, quizzes and language meetings, etc. Educators can impart simple to-do exercises with guardians to help their kids.
Share lesson plan- The teacher can share lesson plans before the class so that the student can come well prepared for the class beforehand. Moreover, there are no limits on meeting duration.
Conclusion
In a nutshell, Illumine is the best virtual classroom software equipped with a plethora of benefits to promote smooth virtual classroom teaching. All these qualities make it stand out from others in the market. So with Illumine, switch from virtual teaching to smart teaching!
The post How to Get Kids Pay More Attention to Video Classes appeared first on Illumine